Welcome to Gold Coast Feed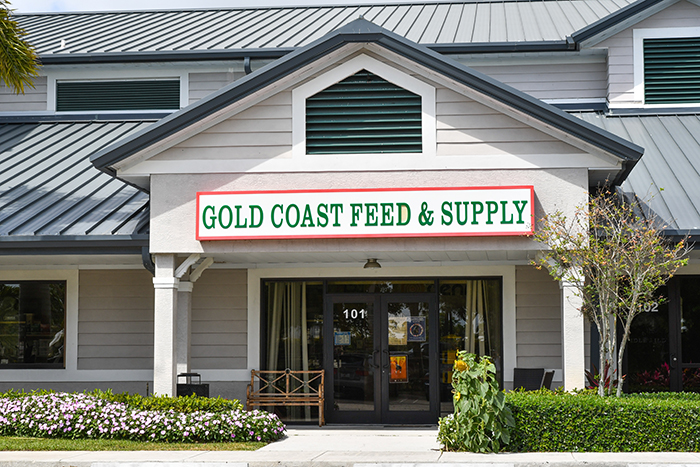 Gold Coast Feed is the official feed and bedding supplier of Wellington International, providing services year-round and during the Winter Equestrian Festival (WEF) and Adequan® Global Dressage Festival (AGDF).
Gold Coast Feed is located on South Shore Boulevard, offering convenient and easy access for customers competing at WEF, AGDF and local barn managers in the Wellington/Loxahatchee area.
We offer an array of supplies and products for your equine athletes, including a variety of feeds, supplements, hay, and bedding, ensuring health and comfort for your equine companion.
Our Gold Coast Feed staff prides themselves on attentiveness to detail and customer interaction – we want to ensure that both horses and humans are happy!
We offer farm deliveries from January – April and are open year-round at our location in Wellington, FL.
Find us at the corner of South Shore Boulevard and Pierson Rd. 
Gold Coast Feed and Supply LLC
13501 South Shore Blvd
Wellington , FL 33414
Call us today at (561) 793-4607 to reserve your order and schedule delivery!
Store Hours 
January – April 4
Monday – Friday: 8:00 a.m. – 5:00 p.m.
Saturday: 9:00 a.m. – 4:00 p.m.
Sunday, April 4: 10 a.m. – 3 p.m.
*Closed on Sundays beginning April 11
April 5 – December 
Monday: 9:00 a.m. – 1:00 p.m.
Tuesday – Friday: 9:00 a.m. – 4:00 p.m.
Saturdays and Sundays: Closed
Daily deliveries to WI/AGDF showgrounds.
Weekly deliveries are available throughout the year from Jupiter, FL – Delray Beach, FL.
Call (561) 793-4607 to schedule your delivery today!